Retriever Trainer
---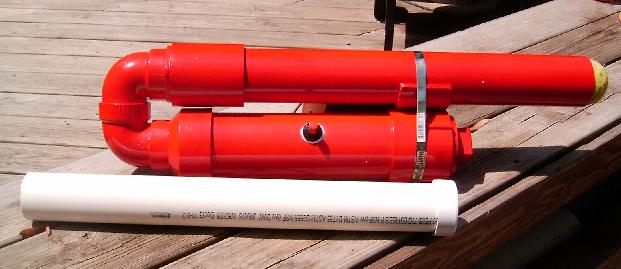 This item will NOT be painted. You will receive it in bare PVC white
Want to keep your hunting dog in top shape. This mini tennis ball shooter was designed to shoot tennis balls for distances up to 100 yds. By using Binaca aerosol breath spray for fuel. This will allow you to regulate how far you will shoot tennis balls from 30 yds to over 100 yds. 3 squirts of Binaca will shoot 30 yds, 7, will go over 100 yds. Does not leave a sticky film in the chamber. Another benifit is you can refresh your breath in a second.
This device will train your dog to associate a gun shot with something coming down from the sky. Can be used in your back yard, pond or field. Can also be used just for fun!
Specifications:
* 3" chamber with cleanout cap
* 1.5" elbow
* 2.5" tennis ball barrel
* BBQ push button ignitor
* 2" ramrod
* Binaca fuel included.
Pricing:
Check order form for current pricing
---
Copyright spudgun.com, 1997 - 2008
This page was last updated 08/21/2010